ANNOUNCEMENT! I was curious, so I went to Technorati to check up on my rankings and see how my blog was doing. I was thrilled with what I saw – my rank is 99,322, which is below 100,000! I know it's nothing special and nothing to really brag about, but it's just a new milestone for me and I'm happy. =) However… There's a downside to this.
I'm switching domains sometime within the next few days, so I'll have to start all over again. No more rank below 100,000. With my new domain, I'll be in the millions again, working my way down. Hopefully I'll figure out some way to get my rank back where it should be quickly, with an awesome idea or a unique competition.
Anyway, new milestones like this just make me happy. My blog, although still tiny and hardly anything at all, has reached new levels that I never dreamed it would. And even when I have my new domain, it'll only get better! =)
I'd like to thank everyone who has helped me lately, and I'd also like to thank the Technorati community. I'll be linking five random people's blogs who have favorited me on Technorati. Here they are:
And thanks to everyone else who has favorited me! When I have my new domain I will have a certain day of the week where I can link to those in my Technorati and MyBlogLog community weekly (or something like that).
Do YOU want to win a $25 Google Adwords coupon? Mark Sierra over at MeAndMyDrum is holding a contest where the winner receives a coupon worth $25 towards Google Adwords. He is also offering free banner space on his blog for 30 days.
Mark's blog is great. He posts on a variety of topics – blogging tips, technology, humor, and more. His blog is on my blogroll as a reminder to me to check it out everyday, and so my readers can do the same! Mark always has a thoughtful, unique insight on things and that's just one reason why he's a great blogger.
Now, to celebrate his blog turning three months old, he's having this competition where you can win $25 coupon for Google Adwords. All you've got to do is make a post about his blog and in your post, link to his blog and the contest page. How does this help you? Adwords can help get the word out and you can reach even more people. This is great if you have a blog and want more people to learn about it. So go enter his contest now, and check out his blog ;) But hurry – you must enter before midnight (central) tonight!
As you probably already know, I hate Blogger and I'm switching to WordPress. This will be hard enough in itself, but before I take action, I need my full plan set out. I have hundreds of questions floating through my mind, but the biggest one is this: What will my domain be?
I would get www.superblogging.com, but sadly, that is taken. I want a .com address. I also do not want hyphens or any other character or number in my domain. Just letters. So what's a girl to do? I'm really thinking about branding now, which both Dosh Dosh, Make Money Online, and other insist is important.
Branding, that's right. I want to have an easy URL that people can remember, and I also want my blog to be unique and sticky. I want to be able to work with my blog easily. It would be smart to keep my blog named 'Super Blogging' because that is how it is always listed in blogrolls and when people link to me. But what should my blog's new address be (something related, obviously)? Of course I need one that's not taken ;)
Remember, everyone who helps me significantly while I making this switch will be rewarded somehow when I have my new blog and new domain. A reward like free advertisement, links, etc. And you could also help me out with my decisions and questions I have just from the kindness of your heart.
I'm trying to handle this, but switching from free Blogger to self hosted WordPress isn't the easiest thing for me. Thank you,
Tay
Man, was I stupid when I first seriously stepped foot in the blogging world. I've been planning to write up a post with my top blogging mistakes for awhile now, and not hosting my blog on WordPress would be first on the list. What was I thinking? I wanted to blog for free, that's what I was thinking. I signed up for Blogger, which I now hate. But now paying 15 dollars a year for a WordPress blog doesn't sound all that bad. In fact, it sounds more than wonderful!
When I first began to blog, I didn't care about fancy little plug-ins, better overall layouts, all the widgets, the better interface, or anything that WordPress offered, really. And I also didn't care to pay 15 dollars a year for full customization, because I didn't see the point. Now I realize how stupid I was! Before I didn't have money in my Paypal to buy the WordPress blog with, but now I do. And now I really regret not blogging on WordPress.
Here's a tip for all you new bloggers out there, who have yet to make their blog: Use WordPress as your host! Even if it takes you a little while to earn 15 dollars to buy your full customization (if you even need that), it'll be worth it in the long run. Having Blogger is my biggest regret. I know I could switch (it's possible, isn't it?). I know it would be better to switch to WordPress before my blog gets any bigger. But it's just something I don't know how, and don't want, to deal with. What should I do? WordPress is better in a million ways. But should I make the switch from Blogger to WordPress, or should I stick it out with Blogger for years to come? What all would switching entail, and how would I go about it (as in, how would I get a www.MYBLOG'SNAME.com domain, etc.) Is it possible?
And if I DO make the switch, I'll have a lot of questions and need some help along the way, so maybe you can help me for once. I'll be hanging out in the comments section of this post. ;)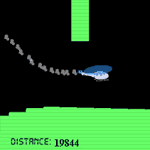 Blogging can get exhausting after awhile, no matter how much you're in love with it. I could spend all day long writing content, reading other blogs, trying to get new traffic and making money online. But even too much of a good thing is bad. If you spend eight hours a day, seven days a week around blogging, then it might start to seem a little like a chore and get a little tiring. You don't want that to happen! That's why you should take a break, try something new, and check out one of these fun, addictive games I'm about to introduce to you.
Over at MeAndMyDrum, a post was made about Jelly Jumper. This is a very fun game and one I could play for a long sitting! You're jumping around on a keyboard, and you try to land on the right keys. Each level is harder than the one before it.
My personal favorite is Pacxon. Not only does it have cool music and sound effects, but it's fun enough that I have to play it numerous times daily. I've never been obsessed with any online game more, especially one as simple as this. Pacxon is sort of like Pacman, except you're trying to fill up at least 80% of space and build walls… Check it out!
The Helicopter Game is a good one, too. It's simple – there are no objectives, power-ups, or anything special to remember. All you've got to do is hold down the mouse to go up, and let go of it to decline. Avoid hitting anything!
Other games you might want to try are Virus, Off-sides, Fish, City Jumper, and Insaniquarium. If you still can't get enough, check out Popcap, BigFishGames, and AlbinoBlackSheep for more.
And remember – it's great and much-needed to take a break every now and then, but don't let games distract you for TOO long ;)